Founded in March 1991, Dalian Hi-tech Zone is one of the first batch of national-level high technology industrial zones. It is a highland that gathers new and high technology industries in northeast China and a self-dependent innovation platform.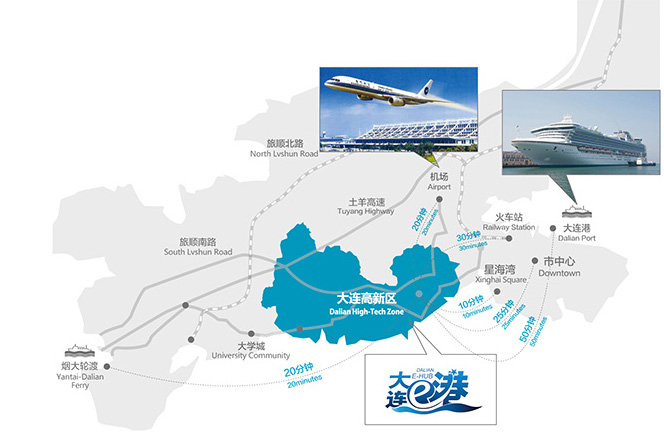 Dalian Hi-tech Zone is situated in the southwest of Dalian City, covering an area of 153 square kilometers, 41.6 km long coastline, and the forest coverage rate reaching 70% or more. It's near sea and hill, has luxuriant vegetation, ecological environment and convenient transportation. There are two sub-districts of Lingshui and Dragon King Pond under the jurisdiction, with a population of 210000. Dalian Hi-tech Zone is the leading zone of opening up to the outside city and the demonstration area of science and technology of Dalian City, also the hi-tech industrial agglomeration. Currently, there are 5000 registered enterprises, more than 900 high-tech enterprises, 380 export-oriented enterprises or more, and over 100 Global 500 companies settled in the zone, such as IBM, HP, Ericsson and DELL.

The development of Dalian Hi-tech Zone takes software and information technology outsourcing as the leading factors, featuring network and e-commerce, ACG and culture startup, life science, design, new materials and new energy, intelligent manufacturing, and technological finance. Dalian Hi-tech Zone has been awarded China's only "national software industry internationalization demonstration city" and "national innovative software industrial cluster", China's first "national innovation-type park, China's "national software industry base", "model city of national software copyright protection ", and other software industry honors awarded by the nation. In 2013, Dalian Hi-tech Zone won "the national-level culture and science and technology integration demonstration base", becoming a highland for national innovation and entrepreneurship.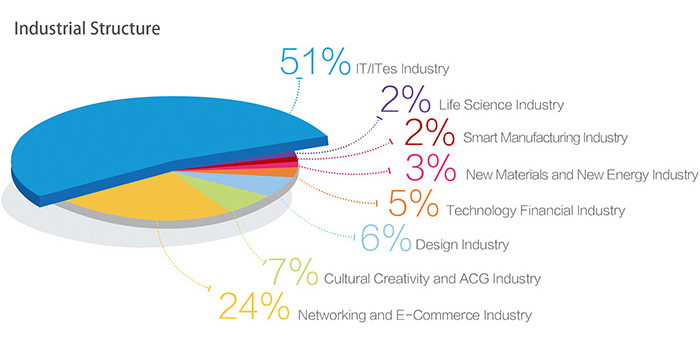 Dalian Hi-tech Zone is the platform of scientific and technological innovation, with well-equipped facilities, fully functional innovative and entrepreneurial system, and featured incubation network system integrating comprehensive incubation, professional incubation, international incubation and second grade incubation. It boasts of nearly a hundred national R&D centers and enterprise R&D centers, and 8 public technical service platforms. Independent innovation results continue to emerge, and the total number of intellectual property applications and authorizations topped the list in Dalian City.
Dalian Hi-tech Zone is the core area of software and service outsourcing industry, also the key development area in Liaoning coastal economic belt. The software and service outsourcing industry are growing in a high-end, large-scale and clustered way. By now, the industry has 1220 enterprises, and the revenue reaches 110.8 billion Yuan. The planned constructions include Dalian Software Park, Qixianling Modern Service Industry Core Functional Area, Hekou International Software Park, Huangnichuan Tiandi Software Park, Huaxin Software Park and other professional software parks. The software and service outsourcing industry's strength, scale and innovation ability are at the forefront of the country.
Dalian Hi-tech Zone, which pays great attention to the creation of ecological and humane environment and the high integration degree of human, nature and industrial development, is a green park approved by ISO14000 Environmental Management System Certification.
Over the years, aiming at being "high and new", focusing on "innovation" and "entrepreneurship", Dalian Hi-tech Zone has developed into one of best areas in coastal economic belt in aspects of innovation capability, characteristic industry and economic construction under the development and opening up strategy, which made it become a new growth pole of Dalian economic development.
In the future, Dalian Hi-tech Zone will grasp nation's significant historic opportunity of "public startup, wide innovation", give priority to the development of strategic emerging industries with software and service outsourcing as primary, such as industrial design, network and ACG industry, technological finance, educational training, and headquarters economy, seize the historical opportunity of the Internet of things, cloud computing, mobile Internet and big data era, implement the innovation leading strategy in an all round way, accelerate industry transformation and upgrading, fully integrate two big resource factors at home and abroad, strengthen enterprise introduction and industry training, and strive to build a comprehensive high-tech industry highland which would be led by technological innovation, gather high-end industries, demonstrate green ecology, and realize human interaction and symbiosis"