Powered by a solid foundation of IT industry, DHTZ is seeking breakthroughs in the fields of IT and BT integration, translational medicine, marine resources innovative utilization. Currently, there are over 30 biomedical enterprises, and a biomedical industry innovation center with area of 25,000 m2 in DHTZ. In the future, a modern biomedical industry model of "Talent training, innovation driving and financing boosting" shall be adapted to create a modern high-tech broad health industry and green urban area.

Quintiles Medical Developmgent (Dalian) Co., Ltd.
As the largest CRO provider worldwide, Quintiles is the only fully integrated biopharmaceutical services company offering clinical, commercial, consulting and capital solutions worldwide.
Eli Lilly Global Technology Innovation Center
Eli Lilly and Company is a global pharmaceutical leader with great innovation spirit, and one of the Fortune Global 500 companies. This innovation center is Lilly's only software and information R&D lab in China.
Developing Strategy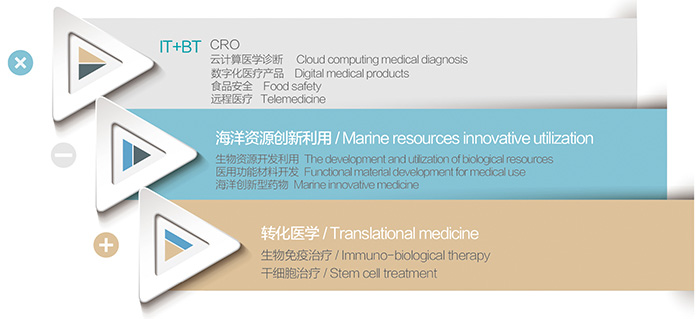 Neusoft Xikang Healthcare Technology Co., Ltd.
Provide full life cycle healthcare service platform for individuals and families, including chronic disease prevention ecosystem, through the combination of healthcare IOT, healthcare cloud platform and premium medical resources.
Dalian Avital Biotechnology Co., Ltd.
Currently the world's only high purity active potassium alginate materials manufacturer and supplier, holding independent IPRS for related technologies, which has acquired the international PCT patent and national invention patent. It's also the company listed in China's New OTCBB that had the biggest rise In January 2014.
Genomic Future Biotech (Dalian) Co., Ltd.
A high-tech enterprise engaged in the next generation human cancer genome sequencing and specialized data in-depth analysis, providing more accurate early diagnosis of cancer through the use of next-generation sequencing cancer information decoding fully automated analysis system. It has been awarded with the first prize of 2013 Hi-Chance Project.
Dalian Jiahenamei Biotech Co., Ltd
Holds internationally advanced genetic diagnosis technology, stem cell and immunological technology, and has formed innovative therapies in the field of tumor immunology.