A unique industry cluster has been formed in the fields of large aircraft digitized manufacturing, engine R&D and testing, whole-vehicle design, etc.
Dalian Start Hi-tech Developing Co., Ltd.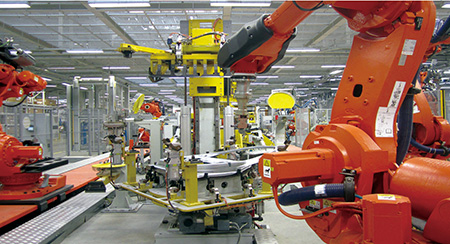 Major supplier of digital technology and equipments of aircraft manufacturing in China(Including military aircraft and civilian aircraft); capable of supplying high quality aircraft parts assembly, general assembly of digital flexible assembly line and related software system.
Dalian Auto-Tech Incorporated Corporation
A High-Tech enterprise specialized in design, manufacturing, integration and service of automobile body in white, whose automation equipments and production lines manufactured for automobile production have earned recognition from world famous automakers such as Mercedes and BMW.
Siemens Sensors and Communication Ltd.
Wholly owned subsidiary of the world's leading electrical and electronic Engineering enterprise and one of the Fortune global 500 companies-Siemens of Germany. The plant in DHTZ installs the world's largest process instrument calibration device.
Dalian Dasen Numerical Control Co., Ltd.
Specializes in the manufacturing of middle and high-end numerical control system and robot embroidery machines, it is the largest industrialized numerical system production base at present in China.